I recorded 20 days during the month with a high temperature of 90° or higher(!). Max temperature for the month was 102°. In addition to the heat, the month was mostly very dry although we were lucky on a couple of occasions thanks to isolated thunderstorms. A gust to 51 mph was recorded during a thunderstorm on July 18. The total rain was 2.35 inches but only 2 days during the month had 0.50 inch of rain or more. So there were considerably more dry days then rainy ones. In addition, using the new CoCoRaHS Evapotranspiration gauge I recorded a monthly total ET of 6.38 inches meaning our net water balance was -4.03 inches.
Here's a graphical representation of the water balance
for my location courtesy CoCoRaHS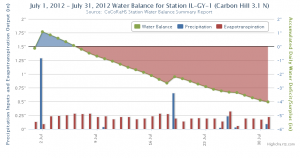 Click here to see water balance charts for other locations.
Here are the other monthly stats for July 2012:
****************************************
   Averages\Extremes for the month of July 2012

 ---------------------------------------------------------------------------------------------
 Average temperature     = 79.8°F
 Average humidity        = 69%
 Average dewpoint        = 67.7°F
 Average barometer       = 29.919 in.
 Average windspeed       = 3.8 mph
 Average gustspeed       = 5.7 mph
 Average direction       = 226° ( SW)
 Rainfall for month      = 2.35 in.
 Maximum rain per minute = 0.100 in on day 01 at time 11:37
 Maximum temperature     = 102.1°F on day 07 at time 15:15
 Minimum temperature     = 57.8°F on day 29 at time 06:01
 Maximum humidity        = 97% on day 27 at time 07:01
 Minimum humidity        = 30% on day 08 at time 14:48
 Maximum dewpoint        = 81.6°F on day 02 at time 19:02
 Minimum dewpoint        = 50.8°F on day 08 at time 14:48
 Maximum pressure        = 30.11 in. on day 11 at time 08:46
 Minimum pressure        = 29.54 in. on day 26 at time 01:59
 Maximum windspeed       = 33 mph from 180°( S ) on day 18 at time 18:34
 Maximum gust speed      = 51 mph from 180°( S ) on day 18 at time 18:34
 Maximum heat index      = 120.0°F on day 06 at time 14:33
 Avg daily max temp :92.8°F
 Avg daily min temp :67.2°F
 Total windrun = 2788.3miles