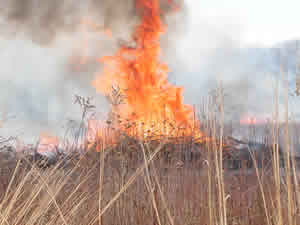 Did you happen to see the red flag warning banner on our web page this afternoon? This indicates conditions are dry and windy enough to increase the fire danger. More specifically the NWS definition:
A fire weather watch or red flag warning is issued when the combination of dry fuels and weather conditions support extreme fire danger. These products are written for land and fire managers to highlight the increased fire danger.
Each NWS office creates local criteria for fire weather watches and red flag warnings. The criteria for northern Illinois and northwest Indiana include:
Sustained 20 foot winds of 20 mph or higher.
Afternoon relative humidity less than 25%.
10 hour fuel moisture at 8% or less for one day.
A fire weather watch is issued up to 72 hours before the above conditions are expected to occur.
A red flag warning is issued when the conditions above are expected to occur or are occurring within the next 24 hours.
It's hard to believe how quickly conditions changed from extremely wet in August to extremely dry!