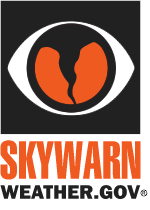 A storm spotter training session will be held at 6:30 PM on Monday Feb 23 in Morris, IL at the Grundy County Administration Building. For more info contact 815-941-3200.
What is SKYWARN?
SKYWARN® is a volunteer program with nearly 290,000 trained severe weather spotters. These volunteers help keep their local communities safe by providing timely and accurate reports of severe weather to the National Weather Service.  You can learn more about SKYWARN at the following links:
Storm Spotter FAQ from NWS Chicago
Note: Other upcoming training sessions and locations in NE Illinois and NW Indiana are listed here.
Skywarn® and the Skywarn® logo are registered trademarks of the National Oceanic and Atmospheric Administration, used with permission.