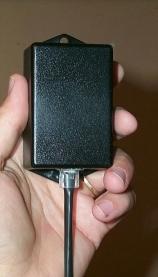 I've recently installed a new Boltek StormTracker lightning detector and added the data to the web site. The detector consists of a small antenna that resides in the attic and picks up radio signals produced by lightning similar to static heard on an AM radio.  This data is then sent to a PCI card and software running on the PC. It is important to note that accurate detection and ranging is only accomplished through triangulation of data from various detectors as is done by the much more sophisticated (and expensive) national lightning networks. The software does allow for range corrections and I hope to make adjustments over time. It can take several months to fine tune a system and even then there is no guarantee of 100 percent accuracy. Nevertheless, I hope you find it interesting.
Disclaimer: StormTracker lightning data is only approximate and should not be used for safety applications. Strike and storm locations indicated and alarm statuses may be erroneous and should not be used to safeguard personnel, equipment or data.
Learn more about lightning safety at the NOAA/NWS Lightning Safety web page.