Back in November of 2005 I created a weather web site in order to display current weather conditions from my backyard. I have always enjoyed watching and recording my local weather and in 2005 a couple of things made it possible. First was the addition of the software I use to display and archive my weather data as well as upload weather info to my web site.  Second was internet access. At that time we finally gained internet access in our area. The old dial-up was not sufficient for display of near realtime weather information.  I had installed the first weather station back in 1999 but was only monitoring and archiving the data locally.
Here's a look back at my original page setup. Things have changed…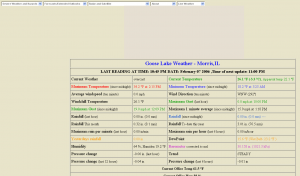 I continue to be amazed at the number of visitors that access my site (other than myself!) for weather information.
I hope you find it useful and interesting.
-Bill