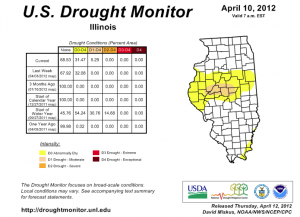 Showers and thunderstorms in the forecast
indicate that we could see a relief from our current precipitation deficit. We are currently between about 1 to 2 inches below normal for rainfall. The recent record setting warmth in March and subsequent rapid growth in vegetation no doubt helped contribute to depletetion of soil moisture.
Portions of Central Illinois have recently been upgraded to moderate drought status.  Soils continue to dry out, at least in the upper soil profile, in our area. The most obvious indicator of lower precipitation is the low flows currently observed on area streams. Typically this is the time of year when rivers would experience their greatest flows.