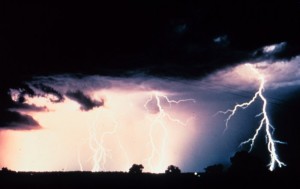 Photo courtesy National Oceanic and Atmospheric Administration/Department of Commerce
June 21-27, 2009 has been designated as Lightning Safety Awareness Week.
Lightning Facts
25 million cloud-to-ground lightning strikes occur in the United States each year.
During the past 30 years, lightning killed an average of 58 people per year. This is higher than 57 deaths per year caused by tornadoes and average 48 deaths to hurricanes
Lightning can strike as far as 10 miles from the area where it is raining
The air within a lightning strike can reach 50,000 degrees Fahrenheit
Lightning can heat its path five times hotter than the surface of the sun
One ground lightning stroke can generate between 100 million and 1 billion volts of electricity
Ninety percent of lightning victims survive their encounter with lightning, especially with timely medical treatment. Individuals struck by lightning do not carry a charge, and it is safe to touch them and provide medical treatment.
Stay safe this summer. Learn more about Lightning Awareness and Lightning Safety