The 2012 year will be remembered for abnormal warmth and below normal precipitation.
Precipitation
I recorded a total of 30.59 inches of precipitation for the year (rain and melted snow water equivalent). The normal is 36.58 inches*. The following graph shows 2012 monthly precip values in blue and normal values in red.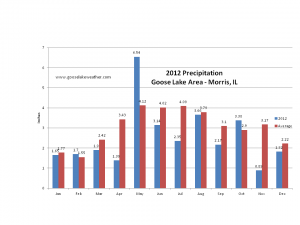 In May, strong thunderstorms dumped over 3 inches of rain in about a 3hr period overnight on May 6/7th.  Spring rains really did not materialize with rainfall before normal during the critical months of March and April. November saw the least amount of precipitation with only 0.89 inch of rain and a trace of snow. Snowfall in December 2012 was well below normal with only a mere 1.0 inch recorded, making it the second least snowiest December in my 15 years of record.
Temperatures
Temperatures were well above average. The month of March was particularly noteworthy with daytime highs in the 80s recorded on nine days. The maximum temperature during the month of March was 84.9 on March 21. The abnormal warmth caused many fruit trees and other berries to bloom far earlier than normal. Unfortunately, April experienced a normal freeze which killed the sensitive Peach blossoms in our backyard and did damage to other orchard crops elsewhere.
In July I recorded my first 100 degree+ day in the 15 years I've been recording data with a monthly high and new backyard weather record of 102.1 degrees on July 7. The combination of hot days and low humidity resulted in high rates of evapotranspiration(ET) with daily ET rates averaging around 0.25 inch. The below normal precipitation combined with high temperatures and corresponding ET values increased the severity of the ongoing drought across the area.
Stats
| | |
| --- | --- |
| Maximum Temperature | 102.1°  on July 7 |
| Minimum Temperature | 4.9°  on Jan 19 |
| Average Temperature | 54.4° |
| Maximum Heat Index | 120.0°  on July 6 |
| Maximum Dewpoint | 81.6° on July 2 |
| Minimum Dewpoint | -3.1°  on Jan 19 |
| Maximum Wind Gust | 53 mph on Nov 11 |
| Maximum Pressure | 30.569 in on Nov 1 |
| Minimum Pressure | 29.033 in Dec 1 |
| Total Precipitation | 30.59 inches (manual rain gauge) |
| Maximum Rain Rate | 0.25 inch/minute on May 7 at 0200 AM. |
*normal value from the CoCoRaHS PRISM Portal project