Here are some weather highlights from Goose Lake Weather for 2014.
By the numbers:
Average temperature     49.3°F
Total precipitation (rain and water equivalent of melted snow)      36.90 inches
Total Snowfall                      57.7 inches
Maximum temperature     90.6°F on May 21 at 15:57
Minimum temperature     -19.7°F on Feb 11 at 06:57
Maximum humidity        100% on June 11 at 03:42
Minimum humidity         20% on Nov 30 at 23:35
Maximum dewpoint        83.2°F on Aug 25 at 13:0
Minimum dewpoint         -24.0°F on Feb 11 at 6:57
Maximum pressure        30.699  in. on Jan 30 at time 10:09
Minimum pressure       29.078  in. on Nov 24 at time 13:41
Maximum sustained windspeed       40.3 mph from 315°( NW) on Jun 30 at time 21:58
Maximum gust speed      57.5 mph from 315°( NW) on Jun 30 at  21:58
Maximum heat index      113.3°F on Aug 25 at time 13:24
Total windrun = 39678.0  miles
The most notable event included the cold and very snowy winter. I recorded 67 days with 1 inch or more of snow on the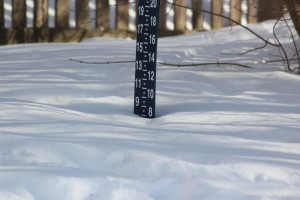 ground at the morning observation time. The greatest 24 hr snowfall was 6.3 inches on Feb 18th. The greatest snow depth on a given day was 16.0 inches, also recorded on Feb 18th. Wind chills dipped well below zero on many occasions and drifting snow was common. The snowblower (and myself) got a workout during the winter!
Aside from the winter, the other notable event for our backyard weather station was a line of severe storms, known as a derecho, that raced through our area on the evening of June 30th. My main anemometer recorded a peak gust of 58 mph and surprisingly, my auxiliary/backup anemometer located at about 20 feet AGL recorded a gust of 61 mph. We experienced tree damage in our backyard and there was widespread tree damage throughout the area. Utility crews and tree cutting services were busy for many weeks (and months) after the storms. See this excellent review of the derecho event from the National Weather Service Chicago Office.